We realize that it is difficult to leave your dental "home" – especially to get a root canal! But, we want to welcome you and reassure you that it is our mission to save the world, one root canal at a time. We enjoy saving teeth. And, it is truly our desire to let as many people know that root canals do not have to hurt! In fact, most patients are pleasantly surprised once their root canal is completed that they "didn't feel a thing." We enjoy treating patients and getting to know each individual that comes to our office. We strive for the best experience and love satisfying our patients – meanwhile, saving their teeth!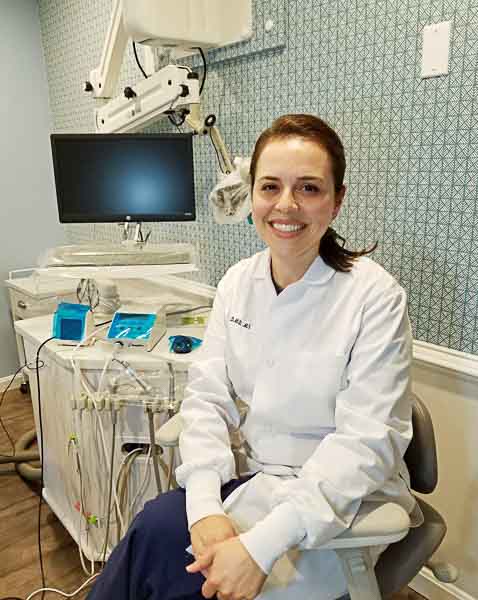 Endodontists are specialists in root canals; their daily practice is limited to all things related to root canals – root canal treatment, retreatments, surgeries and dental trauma. A specialist in endodontics has pursued additional training (usually 2 – 3 years) after dental school to achieve specialty status. An endodontist is an expert in their field. On average, endodontists perform approximately 20 or more root canal treatments a week, while general dentists may perform 1 – 3 per week.
As experts with their practices limited to endodontic treatment, endodontists are efficient and precise. They are well-equipped and trained to manage anxious patients, patients in pain, and they can most often complete the procedure in a relatively shorter treatment time. Overall, seeing a specialist for your root canal treatment ensures that you are receiving the best quality treatment, and this usually results in a positive experience, a better prognosis and faster healing. Likewise, most endodontists offer flexibility in accommodating emergency cases, so delays in treatment are kept to a minimum and patients can be relieved of dental pain quickly – usually the same day they are in need.
Lastly, most endodontists utilize advanced technology such as operating microscopes, digital radiography, including 3D scans, and ultrasonic instrumentation to treat their patients effectively, quickly and comfortably. The majority of our patients are surprised to find that their treatment has been completed without pain. Generally, most are surprised at how smooth and comfortable their treatment went – and, that is our goal as a specialist!
Why choose Dr. McIntyre?
Dr. Judy McIntyre has wanted to be a dentist ever since she was a little girl, having sustained a traumatic dental injury herself. She has pursued her life-long dream throughout her formative years. She worked as an orthodontic assistant throughout college and dental school. During dental school, the trauma aspect of endodontics as well as immediacy of pain relief was of great interest to her. Shadowing one of her mentors throughout dental school, she ultimately decided to pursue endodontics. When she was offered a coveted spot at the UNC Dept. of Endodontics for her residency and specialty training, she enthusiastically accepted knowing that she would be training at one of the top endodontic residency programs in the country. Dr. McIntyre has pursued every avenue of extra training possible and has gained much knowledge. Led by experts in their field at Boston's Children's Hospital, the UNC Dept of Endodontics as well as the UNC Dept of Pediatric Dentistry, she has seen a diverse amount of cases and has had exceptional training. Dr. McIntyre wants to provide you pain relief and healing with as little discomfort as possible. Read Dr. McIntyre's bio to learn more about her.